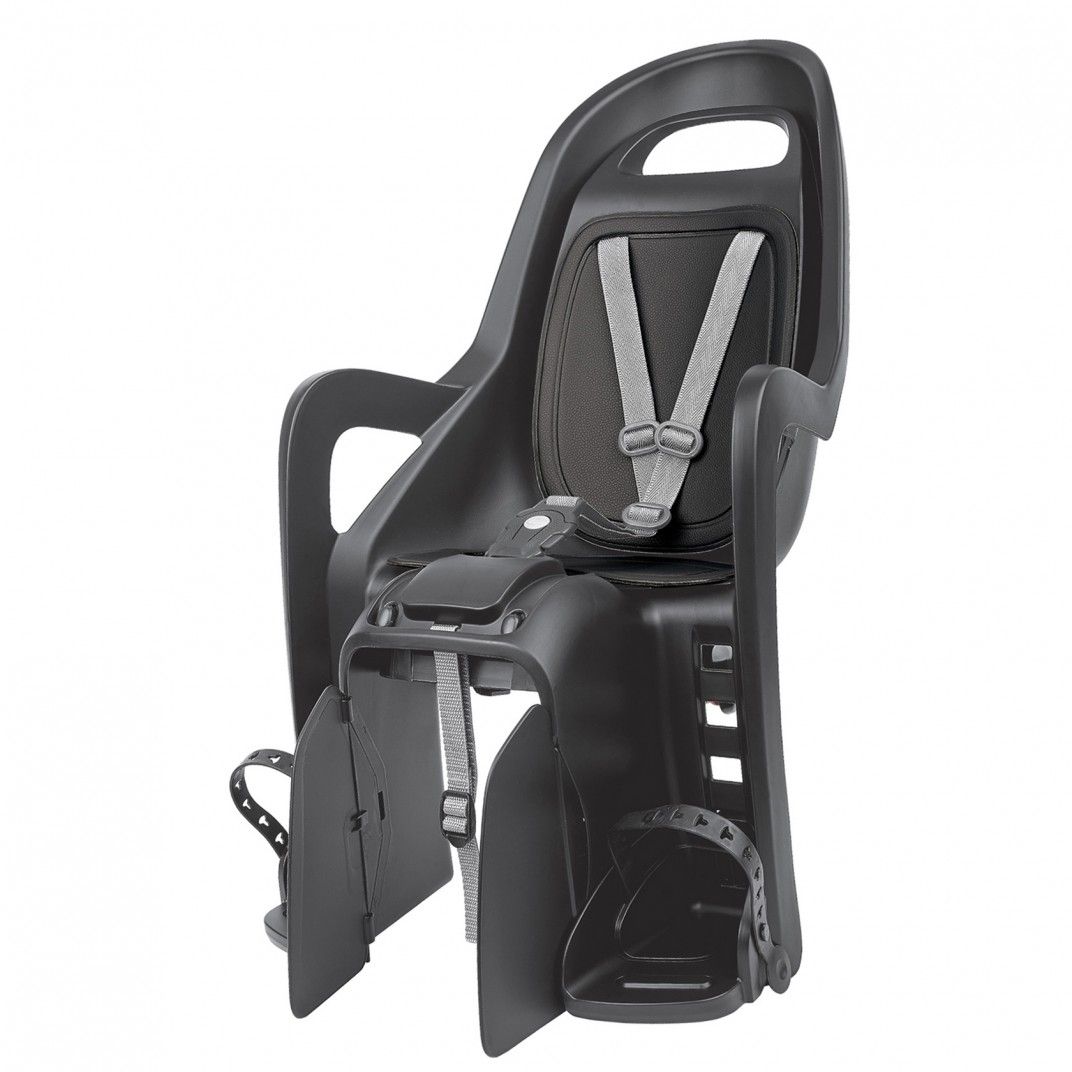 Siège enfant Groovy CFS pour fixation au porte bagages
Regular price
€55,90
/
Tax included.
Groovy CFS a un design frais et ergonomique et la forme des accoudoirs offre un confort supplémentaire pour les enfants, offre une protection intégrée des pieds, une protection latérale accrue, un grand autocollant réfléchissant et est compatible avec l'utilisation d'un casque. De plus, il est facile de monter le siège de vélo sur le porte-bagages - aucun outil n'est nécessaire - ce qui le rend vraiment facile pour les déplacements et le rangement.
Attention, pour le vélo électrique Yuvy, ce siège se fixe sur le panier arrière (vendu séparément).
Adapté aux enfants pesant au maximum 22 Kg (environ 9 mois à 4-5 ans).
Sécurité :

Repose-mains pour une plus grande protection et confort de l'enfant

Plus grande surface de protection latérale

Sangle de serrage avec blocage pour enfants

Ceinture extra de serrage au cadre du vélo

Plus grande surface de protection des pieds - évitant le contact du pied avec la roue

Plastique UV résistant

Confort :

Ceinture au serrage ajustable sur 3 points
Possibilité de placer la ceinture sur 2 hauteurs différentes

Possibilité d'ajuster le repose-pieds sur 4 hauteurs différentes
Coussin imperméable lavable et amovible - confortable et facile à nettoyer
La pose et le retrait du siège sont faciles, permettant ainsi le changement quotidien d'utilisateurs. L'installation sur le porte-bagages du vélo de ce siège n'a besoin d'aucun outil ou de clé. Serrez ou dévissez le bouton de la base et il est prêt à être utilisé ou à être rangé
Déplacement du siège possible sur plusieurs positions différentes (vers l'avant ou vers l'arrière) selon la taille du vélo ou de l'enfant
Dimensions du siège : Largeur 400 x hauteur 715 x profondeur 439 mm
Poids du siège : 2,58Kg
In stock, ready to ship

Inventory on the way
Livraison 3-5 jours ouvrés
Payments in 2 to 10 times :
Cash payments:
With Alma, we offer you the possibility to spread your payment by paying in installments. It's simple, secure and free of charge for 2x, 3x and 4x payments!
2X, 3x and 4x payments are available for France, Belgium, Germany, Spain and Italy.
The 10x payment is available for France.
How does it work?
Choose Alma as your payment option and you will have the possibility to pay in installments. You will be asked for some basic information by Alma, and the approval is done instantly, just like a classic payment. You will then receive an email with the payment schedule, and a reminder 3 days before each due date.
Eligibility conditions
These payment types are available for all orders between 100€ and 4000€.
Accepted cards are Visa, Mastercard and American Express. Prepaid, virtual and systematic authorization cards are not accepted.
Any questions?
If you have a problem with your order paid in installments with Alma, you can visitAlma's customer FAQ at or send an email to Alma's customer support at support@getalma.eu
If you change your mind, no problem. As soon as we validate the return of your order, we will start the refund order. The first monthly payment will be refunded to the credit card used for the order within a few days, the remaining monthly payments will simply be cancelled.
Financing
For the payment in 3x or 4x, we take care of 100% of the expenses caused by the facility of payment (available for France, Belgium, Germany, Spain and Italy).
For payment by 10x, the remaining costs are 3.1% of the amount of your order (available in France only).

Financing granted subject to acceptance by ALMA SAS - 176 avenue Charles de Gaulle 92200 Neuilly-sur-Seine - registered with the RCS Nanterre under number 839 100 575. You benefit from a legal retraction period for distance selling.
Nous expédions sous 48h depuis notre entrepôt situé dans les Hauts de France et livrons à domicile sur rdv en 3 à 5 jours.

Learn More
Nous gérons le service client en interne, en direct avec tous nos clients. Nous orchestrons des prestations réalisées par nos plus de 400 partenaires locaux partout en France pour assurer un service de proximité où que vous soyez.
Vous bénéficiez de 2 semaines d'essai pendant lesquelles vous pouvez changer d'avis et nous restituer gratuitement le produit.
Tous nos produits sont garantis 2 ans sauf les pièces d'usure.