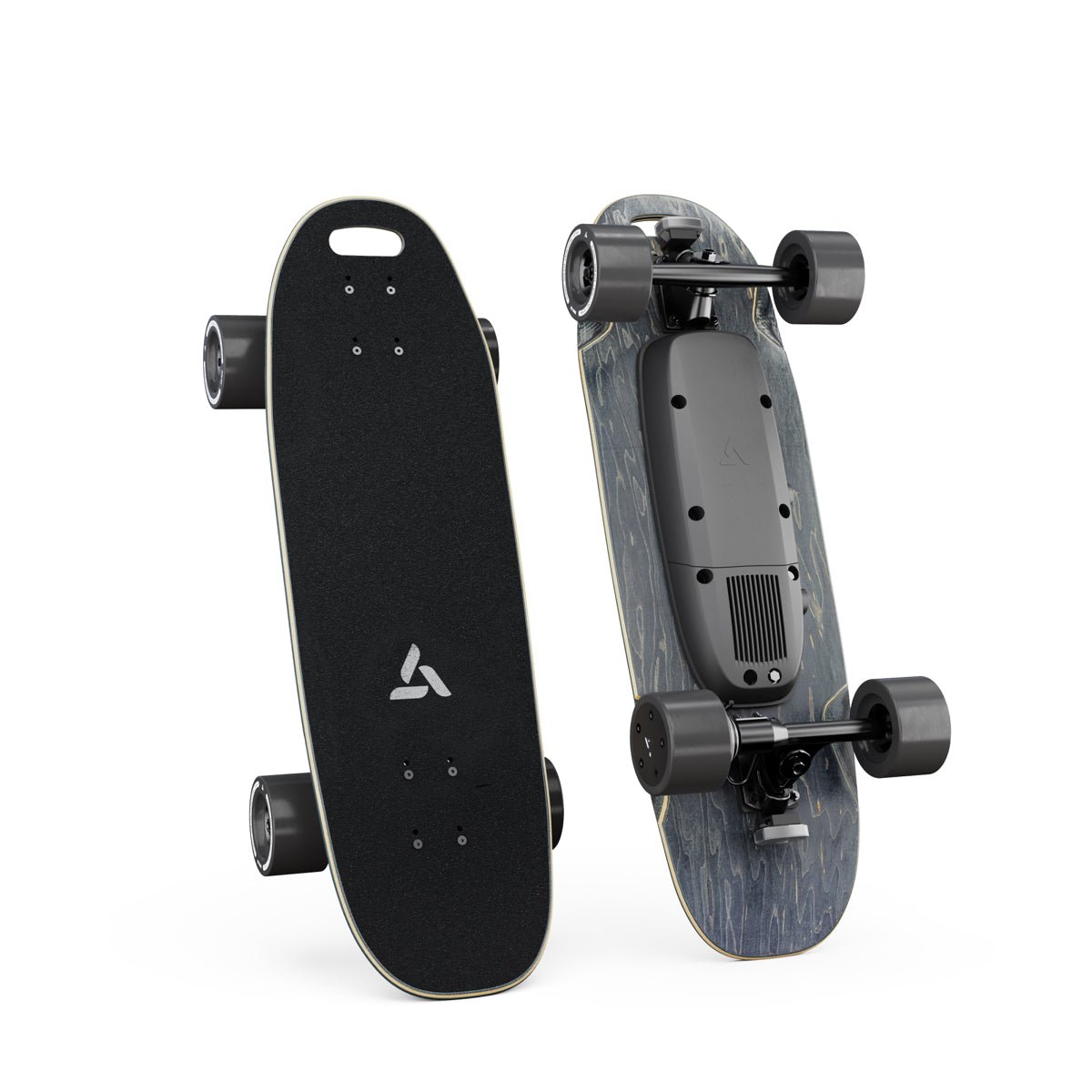 Liten Single
Regular price
€399,00
/
Tax included.
Le plateau Liten est un mini cruiser très compact, facilitant le transport et la maniabilité. Le gain de poids et l'encombrement limité sont appréciés par ceux qui ont besoin de combiner leurs déplacements avec les transports en commun.
Le Liten Single, équipé d'une batterie longue distance, offre une autonomie réelle allant jusqu'à 30 Km en une seule charge, contre 15 Km avec la batterie standard.
| | | |
| --- | --- | --- |
| Model | Standard | Long distance |
| Autonomy | Up to 15 Km | Up to 30 Km |
| Recharge | 100% in 90 min | 100% in 3 h 30 min |
| Composition | Lithium-ion | Lithium-ion |
| Capacity | 90 Wh | 187 Wh |
Model

Standard

OLED

Intuitive and precise thumb-activated acceleration and braking with the thumbwheel
✔
✔
Remote and skateboard battery gauges
✔
✔
Forward and reverse motion
✔
✔
Charging
Micro USB
USB-C
Approved version

3 modes.

Max 25 Km/h

3 modes.

Max 25 Km/h

SPORT version (not homologated)
4 modes.


Max 32 Km/h with single engine.
Max 38 Km/h with double engine

4 modes.


Max 32 Km/h with single engine.
Max 38 Km/h with double engine
In stock, ready to ship

Inventory on the way
Livraison en 3 à 5 jours ouvrés
Payments in 2 to 10 times :
Cash payments:
With Alma, we offer you the possibility to spread your payment by paying in installments. It's simple, secure and free of charge for 2x, 3x and 4x payments!
2X, 3x and 4x payments are available for France, Belgium, Germany, Spain and Italy.
The 10x payment is available for France.
How does it work?
Choose Alma as your payment option and you will have the possibility to pay in installments. You will be asked for some basic information by Alma, and the approval is done instantly, just like a classic payment. You will then receive an email with the payment schedule, and a reminder 3 days before each due date.
Eligibility conditions
These payment types are available for all orders between 100€ and 4000€.
Accepted cards are Visa, Mastercard and American Express. Prepaid, virtual and systematic authorization cards are not accepted.
Any questions?
If you have a problem with your order paid in installments with Alma, you can visitAlma's customer FAQ at or send an email to Alma's customer support at support@getalma.eu
If you change your mind, no problem. As soon as we validate the return of your order, we will start the refund order. The first monthly payment will be refunded to the credit card used for the order within a few days, the remaining monthly payments will simply be cancelled.
Financing
For the payment in 3x or 4x, we take care of 100% of the expenses caused by the facility of payment (available for France, Belgium, Germany, Spain and Italy).
For payment by 10x, the remaining costs are 3.1% of the amount of your order (available in France only).

Financing granted subject to acceptance by ALMA SAS - 176 avenue Charles de Gaulle 92200 Neuilly-sur-Seine - registered with the RCS Nanterre under number 839 100 575. You benefit from a legal retraction period for distance selling.
Essayez nos skates électriques près de chez vous. Nous proposons via nos partenaires des essais dans plus de 100 établissements. Et si vous êtes à Bordeaux, l'équipe Elwing vous accueille sur RDV pour essayer tous nos produits.
The products in stock are shipped within 48 hours, then the delivery takes on average 2 days for orders to be delivered in France, and 3 to 5 days for the rest of Europe. You will receive an email confirming your order, then another one when it is shipped. The tracking number of the carrier is communicated to you so that you can trace the routing of your package.
For pre-ordered products, we ship as soon as stock is available and in the chronological order of orders received. The expected shipping date is displayed on the product page, and you are informed by email if the expected delivery date changes.
If you have any questions about shipping, please contact us at support@elwing.co
Nous gérons le service client en interne, en direct avec tous nos clients. Nous orchestrons si besoin des prestations réalisées par nos plus de 400 partenaires locaux partout en France pour assurer un service de proximité où que vous soyez.
Vous bénéficiez de 2 semaines d'essai pendant lesquelles vous pouvez changer d'avis et nous restituer gratuitement le produit.
Tous nos produits sont garantis 2 ans sauf les pièces d'usure.